In reading the Apostle Paul's writing a good bit lately, and we always are if we are reading the Bible much, I think I can sum up his main themes that have been speaking to me under four headings: "How to become a Christian," "How to live the Christian life," "Grow up!" and "Don't Give up!"  And I believe that they are all equally important for us to remember during this season of our lives. 
How to become a Christian.  It is good to regularly revisit this foundation of the faith, so we know that we are saved, reborn, have eternal life and have the Holy Spirit, or if we don't then we know how to receive salvation, new birth, eternal life and the Holy Spirit and also how to share the process with someone else:
Paul writes in Romans 10:9-10, 13 if you confess with your mouth that Jesus is Lord and believe in your heart that God raised him from the dead, you will be saved. 10 For with the heart one believes and is justified, and with the mouth one confesses and is saved. 13 For "everyone who calls on the name of the Lord will be saved."
 Three times here Paul mentions being saved.  From what are we saved by confessing that "Jesus is Lord" and by believing that God raised him from the dead and calling upon his name?  We are saved from sin.  Paul writes in Romans 3:23 that all have sinned and fall short of the glory of God. Paul writes in Galatians 3:22 that everyone is imprisoned under sin.  We are saved from death.  Romans 6:23: The wages of sin is death.  We are not only saved from death by resurrection when we die physically someday, but we are saved from death spiritually now. 
Paul writes in Ephesians 2 that apart from Jesus all people were and are dead in trespasses and sins.  In the second half of Romans 6:23 Paul writes, the free gift of God is eternal life in Christ Jesus our Lord.  So when we become a Christian, we are saved from sin and death and receive at that time eternal life, and Paul writes in 2 Corinthians 5:17that if anyone is in Christ he or she is a new creation.  The old has passed away; behold, the new has come. Because sin is the foothold of the devil and his demons in our lives, when we are saved from sin, we are likewise saved from the power of the devil.  In Acts 26, Paul describes his ministry as bringing people from darkness to light and from the power of Satan to God through repentance for the forgiveness of sins.  We become a Christian by being born again to God and simultaneously saved from sin, death and Satan.
 Now when we become a Christian, we begin to live as a Christian.  The Bible asserts clearly and emphatically that believing in Jesus and confessing him as Lord describes an ongoing life of faith submitted to him as Lord.  Paul speaks to How to Live the Christian Life, too.  The emphasis on living the Christian life is on Faith and the Holy Spirit and participation in the body of Christ, the church.  We become a Christian by grace through faith through the work of the Holy Spirit, and we live as a Christian by grace through faith by working with the Holy Spirit in the body of Christ.  Paul writes in 1 Cor 12:3 that nobody, not even a really bright and seemingly good person who has been in church all their life, can say "Jesus is Lord" that is become saved and live as a Christian except "in the Holy Spirit." And Paul states that To each is given the manifestation of the Spirit for the common good and for building up the church. (12:7, 14:12)
Paul writes this in Ephesians 2:9-10: 8 For by grace you have been saved through faith. And this is not your own doing; it is the gift of God, 9 not a result of works, so that no one may boast. 10 For we are his workmanship, created in Christ Jesus for good works, which God prepared beforehand, that we should walk in them.
The Christian life is us going on the journey with Jesus by the Holy Spirit – walking with him in the good works that God prepared for us to walk in.  The journey begins by grace through faith when we are saved from sin and death and it continues by grace through faith with our necessary willingness, cooperation and help.  Paul even refers to his part as striving.  He writes to Timothy:
For to this end we toil and strive, because we have our hope set on the living God, who is the Savior of all people, especially of those who believe. (1 Tim 4:10)
 To walk this out, we not only strive with our own strength which we do; Paul assures us that we have received the Holy Spirit of Jesus who is the spirit of power, love and self-discipline. (2 Tim 1:7)  He is the power and love of God in and among us.  He produces the character of God in us called the fruit of the Spirit that Paul describes in Galatians 5:22: the fruit of the Spirit is love, joy, peace, patience, kindness, goodness, faithfulness, 23 gentleness, self-control;  These characterize the Christian life.
 Throughout his letters, Paul writes things like in 1 Timothy 6:12 "Fight the good fight of the faith," and 2 Thes 5:16 "16 Rejoice always, 17 pray without ceasing, 18 give thanks in all circumstances; for this is the will of God in Christ Jesus for you. 19 Do not quench the Spirit. 20 Do not despise prophecies, 21 but test everything; hold fast what is good. 22 Abstain from every form of evil."
And
Phil 2:12 Therefore, my beloved, as you have always obeyed, so now, not only as in my presence but much more in my absence, work out your own salvation with fear and trembling, 13 for it is God who works in you, both to will and to work for his good pleasure.
These show how to live the Christian life working with God by his Spirit working in us, and this life occurs in the midst of other believers as we give and receive the ministry of spiritual gifts in the church.   
Paul's writing in Scripture shows us "How to become a Christian," and "How to live the Christian life."  But there seems to be a tone of frustration at times, like the people see this and know this and are not quite taking responsibility for doing it and teaching it and sticking to it. Paul shows himself as an exhorter and encourager to the church.
So the theme "Grow Up!" abounds in Paul's writings; for example in Romans 6:1-11, Paul seems to be saying,  "Grow up!" Roman Christians. 
What shall we say then? Are we to continue in sin that grace may abound? 2 By no means! How can we who died to sin still live in it? 3 Do you not know that all of us who have been baptized into Christ Jesus were baptized into his death? 4 We were buried therefore with him by baptism into death, in order that, just as Christ was raised from the dead by the glory of the Father, we too might walk in newness of life.
 5 For if we have been united with him in a death like his, we shall certainly be united with him in a resurrection like his. 6 We know that our old self was crucified with him in order that the body of sin might be brought to nothing, so that we would no longer be enslaved to sin. 7 For one who has died has been set free from sin. 8 Now if we have died with Christ, we believe that we will also live with him. 9 We know that Christ, being raised from the dead, will never die again; death no longer has dominion over him. 10 For the death he died he died to sin, once for all, but the life he lives he lives to God. 11 So you also must consider yourselves dead to sin and alive to God in Christ Jesus.
 "Grow Up. No you can't keep sinning!"  You are dead to sin.  Stop living like you are still a slave to sin or that your self is Lord of your life.  You have died with Christ and you have been raised with Christ.  Jesus is your Lord.  Live in submission to him in newness of life contributing in ministry and fulfilling your part of the body.
 Needing to mature, I believe, is where many Christians in our culture are hovering – immaturity, childishness, ego sensitivity, constant self-concern and alternating between narcissism and Celebrity Worship Syndrome and being overwhelmed with the anxieties of life in the world, even being pulled this way and that by cultural influences.  I fall in there, way too much. We can get stuck there in Christian immaturity.  We know how to become a Christian and we know how to live as a Christian, but we need to simply grow up into mature believers who do it and teach others to do it.  We have a charge and command from God to die to sin, that is selfishness, and to live to God in Christ Jesus by walking in the newness of life by the glory of the Father that is the Spirit of Christ in you.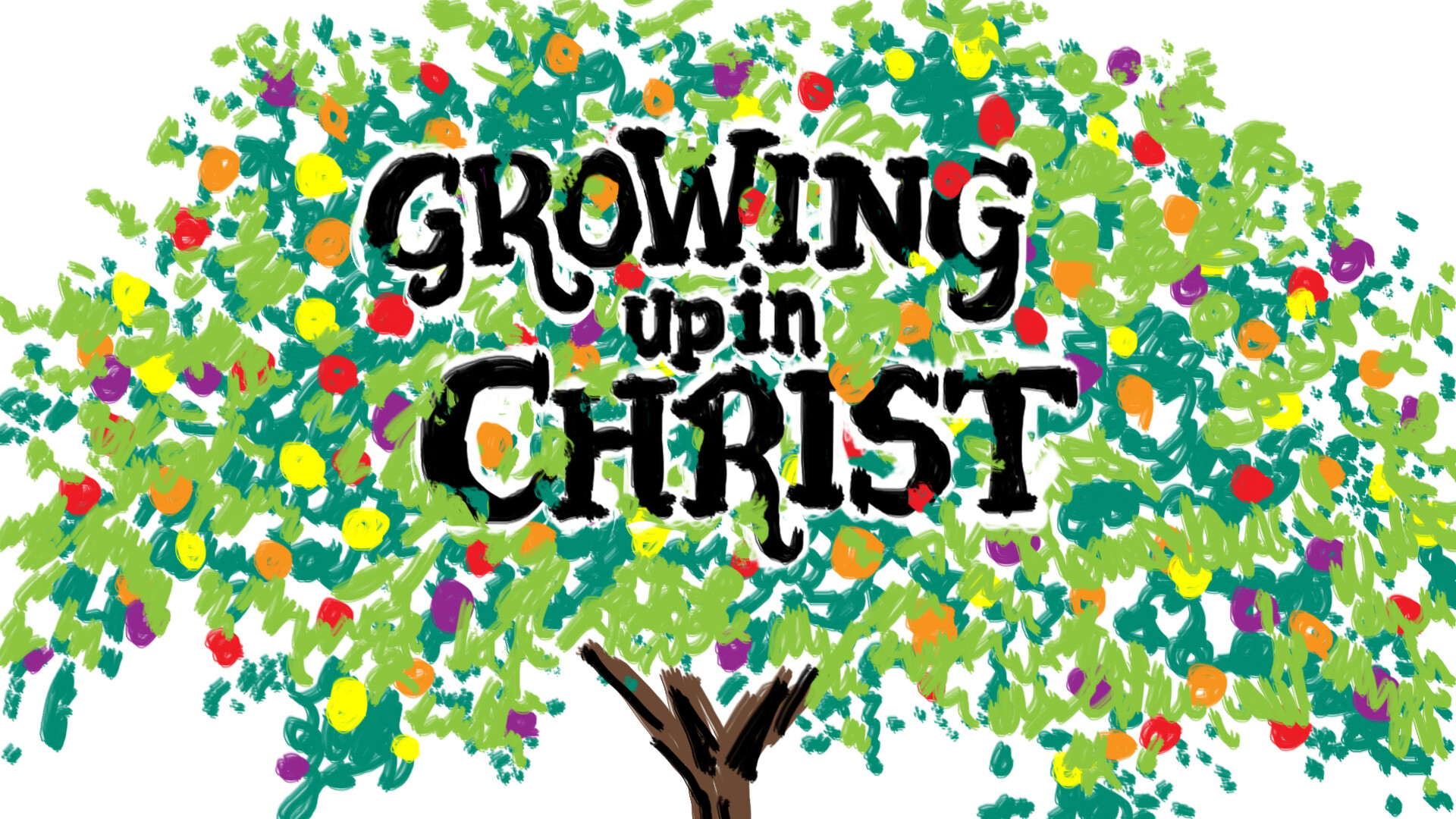 Do you know that there is a whole new self-help literary genre.  It is called "Adulting."  Essentially, this is on how to live as an adult basically.  The term describes living a responsible life in the world.  We laugh at the concept, but the truth is that the church is often guilty of allowing Christians not to grow up spiritually in the same way parents today might allow their children not to grow up until it becomes a crisis and they have to read a book on adulting.
The Apostle Paul was a pioneer in this literary genre, because his letters are all about growing up and becoming a mature Christian. And this doesn't have anything to do with age.  It has to do with mature faith.  There are people who have been Christians for 30 years who are babies in terms of Christian maturity and ministry while some young people – like those in this church are maturing in the faith at a fast pace beyond their years. Paul states the imperative to grow up plainly in 1 Corinthians 3:
But I, brothers [and sisters], could not address you as spiritual people, but as people of the flesh, as infants in Christ. 2 I fed you with milk, not solid food, for you were not ready for it. And even now you are not yet ready, 3 for you are still of the flesh. For while there is jealousy and strife among you, are you not of the flesh and behaving only in a human way?
 Paul is saying I thought you would have grown up into mature Christians by now and could be ministering in the church and functioning as the body of Christ, but you are still acting like the world, like baby Christians trying to get your own way, getting offended or splintering into groups or continuing in sin.  This, Paul describes, is how we lived prior to salvation when we were children (in the faith), enslaved to the elementary principles of the world. (Galatians 4:3)
In his letter to the Colossians, Paul writes that his ministry by the Holy Spirit aims to get people to grow up, to mature as Christians:
Colossians 1: 8 [Jesus] we proclaim, warning everyone and teaching everyone with all wisdom, that we may present everyone mature in Christ. 29 For this I toil, struggling with all his energy that he powerfully works within me.
By the power of God, Paul struggles to see people saved, to teach them the Christian life and to see them grow up into the faith and into ministry themselves so that the church can grow.
What is expressed in Paul's writings demonstrates the work and responsibility of the entire church.  This is a reason he is so adamant that believers grow up and become mature in faith and ministry, so that they can fulfill their calling.  He describes this in Ephesians 4:11-16, a text that has characterized so much of what God is trying to bring about at Church of the Redeemer:
And he gave the apostles, the prophets, the evangelists, the shepherds and teachers, 12 to equip the saints for the work of ministry, for building up the body of Christ, 13 until we all attain to the unity of the faith and of the knowledge of the Son of God, to mature manhood, to the measure of the stature of the fullness of Christ, 14 so that we may no longer be children, tossed to and fro by the waves and carried about by every wind of doctrine, by human cunning, by craftiness in deceitful schemes. 15 Rather, speaking the truth in love, we are to grow up in every way into him who is the head, into Christ, 16 from whom the whole body, joined and held together by every joint with which it is equipped, when each part is working properly, makes the body grow so that it builds itself up in love.
God is calling all of us to be laborers in the harvest, standing firm where God has brought us to grow up to do the work of ministry.  You are a part of the body of Christ.  What happens when you fall out of joint or fall off.  The body can't function.  It is limited, broken and weak.  We must grow up into our ministry in the body of Christ.  This is God's call.  Not mine.  Pastors are not the head.  Only Jesus is the head. I'm one of the parts of the body like you.  We all grow up into Jesus, so that the body functions properly.
And finally, you know how to become a Christian; you know how to live as a Christian; and you know you should grow up as a Christian; Now the fourth theme: Don't Give Up!  Period.  Don't Give Up!
Paul nor I are just talking about giving up your faith, but don't give up that either.  Paul exhorts believers not to give up the fight, not to give up their position in ministry, not to give up the pursuit of holiness, not to give up their hope, their prayers, their earnest desire to see God move.  Don't give up on the body of Christ where God has called you to be.  Don't give up your spiritual disciplines – reading the Bible, prayer, small groups, giving your testimony, talking to your family member about Jesus, trying to use your spiritual gifts, evangelism.  Don't give up.  When it comes to the body of Christ…when someone gives up, we all are the less for it. In 2 Timothy 2:10-12, Paul writes,
Therefore I endure everything for the sake of the elect, that they also may obtain the salvation that is in Christ Jesus with eternal glory. 11 The saying is trustworthy, for: If we have died with him, we will also live with him; 12 if we endure, we will also reign with him;
At times, you will feel like this Christian faith isn't real.  It isn't working.  It's not for you. At some point, a person in the church will offend you, say something you don't like in a way you don't like. At some point, the church won't do it your way and how you like it.  Often, the pastor will make you mad or let you down.  At a lot of points you won't feel like going, participating, or stepping up or out in faith.  Etc. Etc. You will want to disappear from the church, give up responsibility; you will identify dozens of reasons to give up.  The Apostle Paul knew this.  He had been through it all, but encourages Christians, for sake of salvation for people and for the building up of the body of Christ, "Don't give up."  If you endure as God leads you by grace through faith with the Holy Spirit in accordance with the word of truth, you will live with him and reign with him. 
One last word for Paul:
Colossians 3:23-24 Whatever you do, work heartily, as for the Lord and not for men, 24 knowing that from the Lord you will receive the inheritance as your reward. You are serving the Lord Christ.
 Don't give up.  It is all for Jesus.
Today, commit to being a Christian and living as a Christian.  Commit to growing up in the faith and no matter what commit not to give up.